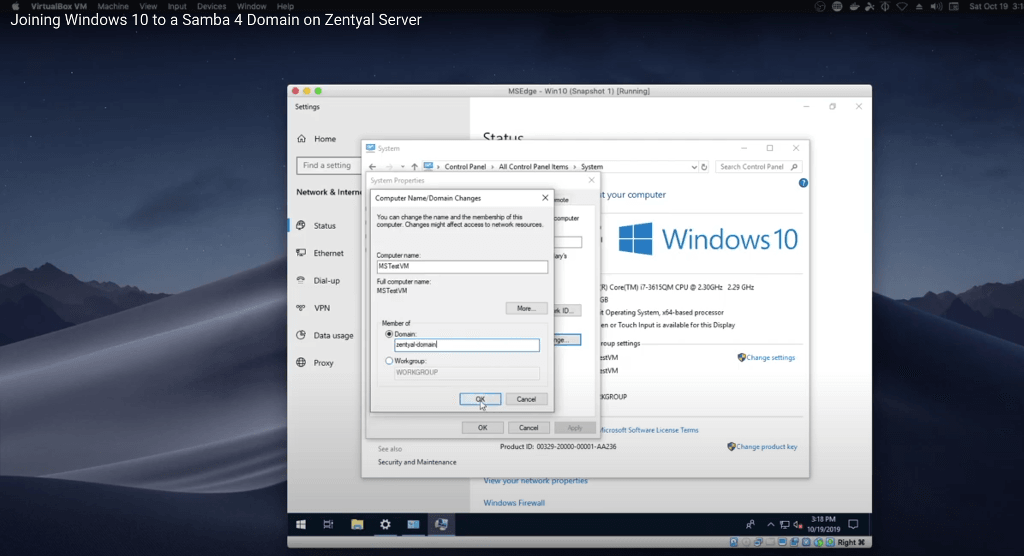 Zentyal Linux Server provides an alternative to Windows Server®. Thanks to the integration of the Samba and Kerberos technologies, Zentyal allows you to join Windows® clients natively to the domain and manage them as you are used to with Windows Server. The Windows operative systems supported by Zentyal include Windows XP/Vista/7/8/10. The process of joining a Windows client to your Zentyal domain is actually identical to joining with a Windows Server.
Today, we want so share with you a video tutorial where Jeremy Leik shows how Windows 10 can be joined to a Samba4 domain on Zentyal Server. Jeremy's environment consists on Zentyal Server Development Edition 6.0 (Domain & Directory, File Server, DNS, Firewall, Network), pfSense (DHCP) and a Windows 10 client. All of them are running as virtual machines on VirtualBox. The tutorial covers the following points:
Configuration of the virtualized test environment
Zentyal Server configuration (domain server, network/gateway, DNS)
Creation of the necessary domain users and permissions on Zentyal Server
Windows 10 configuration (Network connections, Domain settings)
Logging into the Zentyal domain with the Windows 10 using domain users created on Zentyal
Jeremy, thank you for creating and sharing this tutorial!
If you are interested in further information, we recommend you to check out the official Zentyal documentation. More specifically, take a look at the Domain Controller and File Sharing and Joining a Windows client to the domain sections.