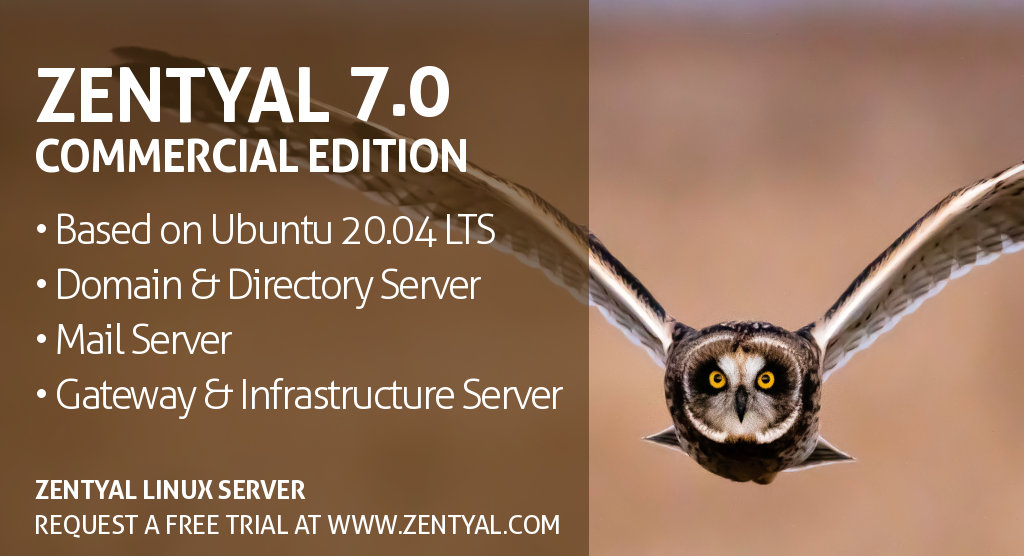 Zentyal today announced a new major version of the Commercial Zentyal Server Edition, Zentyal Server 7.0. This new commercial Zentyal Linux Server release is based on the latest long-term support version of Ubuntu Server (20.04 LTS). Therefore, it comes with the most recent versions of all the integrated software, including Samba 4.11 and SOGo 5.0.1, to name few.
Zentyal Server is a popular Linux alternative to Windows Server®. Thanks to its Samba integration, Zentyal provides native compatibility with Microsoft Active Directory®, allowing users to join Windows® clients to the domain and manage them easily. As a result, it is used by companies and public administrations mainly as a domain and directory server and a file server. In addition, users can easily manage a full range of complementary services from network infrastructure to mail server or gateway, all from the Zentyal Server GUI.
New features and improvements of this version include:
New base distribution: Ubuntu 20.04 Long-Term Support (LTS)
Highlighted software updates: Domain & Directory (Samba 4.11), Webmail (SOGo 5.0.1)
Improvements: Updated database (MySQL 8.0), integration of new web content filter (E2Guardian)
Availability
Free 45-day Trial of the Commercial Zentyal Server Edition 7.0 is available upon request at:
https://zentyal.com/free-trial-request/
Upgrading
Please open a support ticket in the Zentyal Support Portal or Contact us to upgrade your existing Commercial Zentyal Server Edition to v. 7.0.
Additional information
Full list of Zentyal Server 7.0 features is available at:
The Zentyal Server source code is available at:
https://github.com/Zentyal/zentyal/
The full change log from Zentyal Server 6.2 to 7.0 is available at:
https://wiki.zentyal.org/wiki/Zentyal_7.0_Changelog
About Zentyal
Zentyal Linux Server has been developed since 2004. Zentyal Server incorporates all the network services required in corporate environments, most importantly the first-ever native Microsoft Active Directory® implementation on Linux that is easy to use.
With Zentyal Server there is no need to use command line, but system administrators can manage all the network services via graphical user interface. Zentyal-based solutions allow companies to reduce and rationalize IT investments, improve the security and minimize system downtime.
Zentyal Server is widely used by companies independently of their size, activity or location, as well as by public administration or the education sector. The partnership agreements signed with IT support and service providers in more than 20 countries guarantee the distribution of Zentyal-based solutions to customers worldwide.